Casino Bonuses Explained: Welcome, Reload, and No Deposit
If you've played an online casino then the odds are pretty good that you've seen numerous bonuses advertised on just about very single page you click on. With online gambling's massive growth over the years, more and more online casinos are offering players various types of bonuses in order to entice them to play their site. Every online casino is trying to outdo their competitors with attractive bonuses, but today we're going to focus on three of the most prominent: Welcome bonuses, reload bonuses, and no deposit bonuses. Each comes with their own set of nuances so let's dive in and help make sense of it all.
Welcome Bonuses
Every casino has these bonuses plastered on their homepage. They have one job: entice new players. These Welcome Bonuses usually consist of something called a 'Deposit Match'. They're a pretty common form of bonus players will encounter and pretty easy to understand as well.
Basically, the casino will match a portion of the player's first deposit. For instance, if a casino is offering a 100% match with their welcome bonus, then if a player deposits $100 the casino will match that with an additional $100. Each casino has their own welcome bonuses, some up to 250% match, so players should look around and try and find the most attractive to them.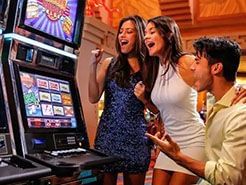 There are also categories of first deposit matches players should be aware of. These could be a match on first deposits using crypto, first deposits for sports books and first deposits on casino play. Again, each online casino offers their own variation of these, so players would be smart to shop around.
Some casinos also offer Free Spins or Free Play as part of their welcome bonuses. These are exactly what they sound like; free! Usually a player is given a set amount of spins on a slot worth a set amount (usually pretty low). Any wins the player spins into is then moved over to the player's balance.
Free plays are typically reserved for sports books, and players will be given a set amount they can use on sports betting.
There will always be stipulations and rollovers on these bonuses so players will want to brush up on those rules before playing.
Reload Bonuses
So we just touched on the bonuses casinos use to entice NEW players. But what about EXISTING ones. Well, I give you reload bonuses. This author likes to think of them as loyalty rewards. A casino will offer reloads in order to keep players playing on their site. These are only offered on bets made after a player's initial bet. Let's take a look.
The Reload Bonus is very similar to the Welcome Bonus in that the casino will match a certain percentage of a player's deposit AFTER their initial deposit. For example, if a casino offers a 50% reload bonus, that means if a player deposits $100 then they will receive $50 in bonus funds.
Most casinos have terms such as deposit levels or the number of deposits that these bonuses will be good for.
No Deposit Bonuses
These may be the most popular bonuses of all. They are usually reserved for new players in order to draw them to play on a specific site. All players need to do in order to get them is sign up. That's it. They usually come in the form of Free Spins on a certain slot machine. This author has noticed that a lot of times the slot is a new slot that the casino is debuting. If a player signs up for that casino, they'll be given a set amount of spins on that slot. Players won't be able to change the bet size, but any winnings will then be transferred to the player's balance. These bonuses are fun in that they usually give attention to slots that players might not notice otherwise.
Some casinos also offer free play or free bets which are more commonly found in the sports book section. Basically, a player will be given a set amount - say $25 - to place on a game or match. If they win, they get to keep the winnings! There are restrictions of the type of bet you can place here, so players should be aware. But if the bet hits the funds will be moved over to your balance. So no harm no foul!
Conclusion
So there we have it. A quick look at the three most popular types of bonuses. With more and more online casinos starting up operations, players will only see more variations of these bonuses. And more competition means casinos will be offering more attractive bonus and free spin features. This all benefits the players. Some players might ignore the bonuses thinking the rollover requirements are too hard to match. But if you give this author free spins, he's going to use them! You never know. You could hit big!